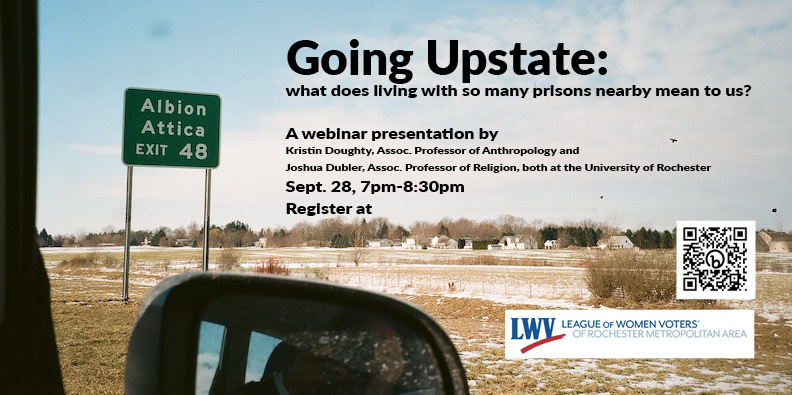 A webinar with Kristin Doughty, Assoc. Professor of Anthropology and
Joshua Dubler, Assoc. Professor of Religion, both at the University of Rochester

When you live in a country that cages two million people, the widespread feeling that prisons exist someplace "over there" is half social engineering and half illusion. For generations, prisons have been sited out in the country, and people are shuttled across the state to fill them. But the prison's reach may be felt all around us: in missing family and friends; in those loved ones returning home changed, in the public and private interests that comprise what Angela Davis called "the prison industrial complex;" in the "crime" around which so much of our politics is predatorily oriented; and in the shriveled notion of "justice" that for most Americans marks that concept's limits of possibility. What effect does mass incarceration have on our communities? These scholars' work examines how the high saturation of prisons, jails, and federal immigrant detention facilities in upstate New York shapes our region. Kristin Doughty and Joshua Dubler teach an ethnography course called "The Cultural Politics of Prison Towns."
The League was founded on the principle that everyone has the right to vote, and encourages all citizens to exercise that right. Find out everything you need to register to vote, and to the polls.
The League has information to help you understand important issues of the day through our forums on topics such as climate change, health care and redistricting. We also sponsor candidate debates to help you decide which candidates deserve your vote.
Volunteer with the League! We have opportunities to register voters and to help get underrepresented citizens to the polls. Help us provide the programs and events that help the League make democracy happen.
LWV-RMA Resources
Join our mailing list to get events updates, and opportunities to get involved.
Read the current or past issues of our newsletter, The Voter, or subscribe to receive a link to The Voter each month in your email.
Check out our YouTube Channel to see all of our past educational events and candidate forums.
Get to know Vote411, a national resource that has all the election information you need:
Register to vote, or verify your registration
Find your polling place
See what's on your ballot and find information on Candidates
Get a copy of Who Represents You, a guide to your elected officials in Monroe county and how to contact them.
The League of Women Voters is a nonpartisan, political organization that encourages the informed and active participation of citizens in government, and influences public policy through education and advocacy. The League is NOT limited to women — men can join in Making Democracy Work as well.
View our Non-Partisan policy here
.